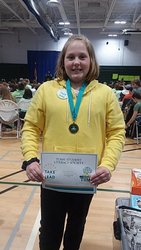 Mary Etta Williams wins 1st place for book talk
The CSE Book Club participated in TomeCon on March 12th at the University of North Georgia in Gainesvillle, GA. TomeCon is an exciting day of concurrent sessions based on all facets of literacy. Session topics include reading, writing, technology, engineering, art, music, and more! Authors from across the country visit with and teach students at the conference.
Students receive awards for their participation in Tome Competitions. Several CSE students participated in different competitions. Mary Etta Williams (5th grade) won first place in the elementary school book talk competition. We are very proud of all our book club students this year!