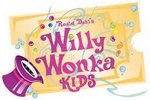 Willy Wonka Musical
April 18th at 6:00 pm
Join us Thursday, April 18th at 6:00 pm as the CSE Fine Arts Department presents "Roald Dahl's Willy Wonka KIDS!"
The delicious adventures experienced by Charlie Bucket on his visit to Willy Wonka's mysterious chocolate factory light up the stage in this captivating adaptation of Roald Dahl's fantastical tale. Featuring the enchanting songs from the 1971 film starring Gene Wilder, in addition to a host of fun new songs, "Roald Dahl's Willy Wonka KIDS" is a scrumdidilyumptious musical guaranteed to delight everyone's sweet tooth.
Admission is FREE but donations will be accepted at the door. We hope to see you there!